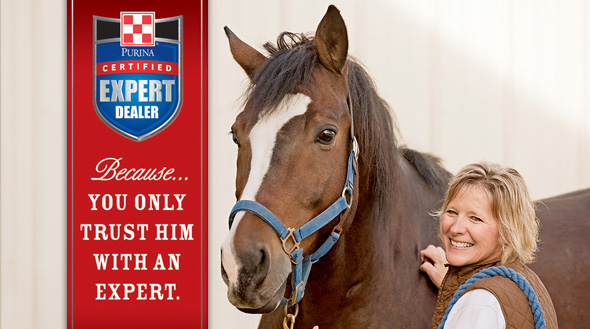 Being a Purina Certified Expert Dealer means that we offer a complete line of quality Purina feed products and have knowledgeable associates who care first about our customers, and their animals. Training is a key element for our Certified Expert staff and you can depend on us for Certified Expert advice!
Expert Articles & Advice
April 1, 2015
The Filipoff family keeps a flock of about 50 chickens and are, in a way, living a dream come true. Steve Filipoff grew up in Los Angeles, CA and as a boy raised chickens in this unlikely place, in a very tiny yard. He knew then that he wanted to raise and enjoy chickens later in life.
April 1, 2015
Getting started as a backyard birder is easy, inexpensive and enjoyable. Birders need to meet birds' needs in their backyard as well as their own birding needs to enjoy every feathered friend that flits through their yard.
Watch Our Video
Sustained® Nutrition is 12-month cow care program using Intake Modifying Technology® Feeding System.
Interested in learning how you can increase your net profit, raise healthier cattle and maximize your forage use for improved conception rates and heavier weaning weights? Ask about Intake Modifying Technology and Purina cattle products today! Please contact our Farm Production Consultant Lauren Stockwell at 703-395-9550 for Free Body Condition Scoring, Hay testing and Feeding Program recommendations as well as Feeding Trials to measure performance for qualified candidates.