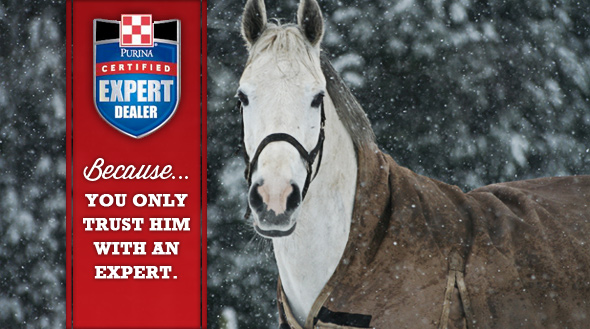 Being a Purina Certified Expert Dealer means that we offer a complete line of quality Purina feed products and have knowledgeable associates who care first about our customers, and their animals. Training is a key element for our Certified Expert staff and you can depend on us for Certified Expert advice!
Bulletin Board
Colder weather is coming! We have bagged and bulk coal and hardwood stove pellets available!
We will be closed on Thanksgiving! We hope you have a great day!
Expert Articles & Advice
November 1, 2014
It can be appealing to stock up on birdseed during seasonal sales or clearance events, but will backyard birds eat seed that is several months old?
November 1, 2014
Your pooch may be an adorable angel in every other way, but if proper behavior on-leash is not part of his repertoire, pleasant walks in the park and other outings may be out of the question. Walking on-leash is an integral part of your dog's training.
Homepage Video
Sustained® Nutrition is 12-month cow care program using Intake Modifying Technology® Feeding System.
Interested in learning how you can increase your net profit, raise healthier cattle and maximize your forage use for improved conception rates and heavier weaning weights? Ask about Intake Modifying Technology and Purina cattle products today! Please contact our Farm Production Consultant Lauren Stockwell at 703-395-9550 for Free Body Condition Scoring, Hay testing and Feeding Program recommendations as well as Feeding Trials to measure performance for qualified candidates.
Quick Contact & Hours
Manager: Thomas Summers
PO Box 430

4002 Jefferson Pike

Jefferson

,

MD

21755
Phone:
301 473-8300
Fax:
301 473-5590
Toll-Free: 800 201-6330
Email:
feeddiva@yahoo.com
Mon - Fri
8:00 am - 6:00 pm