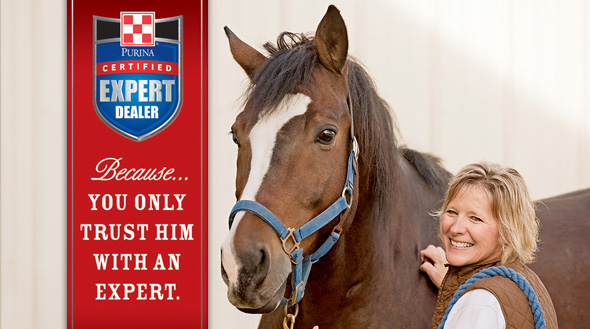 Being a Purina Certified Expert Dealer means that we offer a complete line of quality Purina feed products and have knowledgeable associates who care first about our customers, and their animals. Training is a key element for our Certified Expert staff and you can depend on us for Certified Expert advice!
Expert Articles & Advice
May 1, 2016
The first step in determining why your horse is not eating well, losing weight or failing to thrive is to examine his nutritional program. Your Purina Certified Expert Dealer or Sales Specialist can help you with this process.
April 15, 2016
All backyard birders want to believe that birds are perfectly safe in their yard, but there are many surprising threats that can be a problem even in the most bird-friendly spots. Fortunately, it is easy to spot these threats and take steps to minimize any risks to visiting birds.
Watch Our Video
Sustained® Nutrition is 12-month cow care program using Intake Modifying Technology® Feeding System.
Interested in learning how you can increase your net profit, raise healthier cattle and maximize your forage use for improved conception rates and heavier weaning weights? Ask about Intake Modifying Technology and Purina cattle products today! Please contact our Farm Production Consultant Lauren Stockwell at 703-395-9550 for Free Body Condition Scoring, Hay testing and Feeding Program recommendations as well as Feeding Trials to measure performance for qualified candidates.